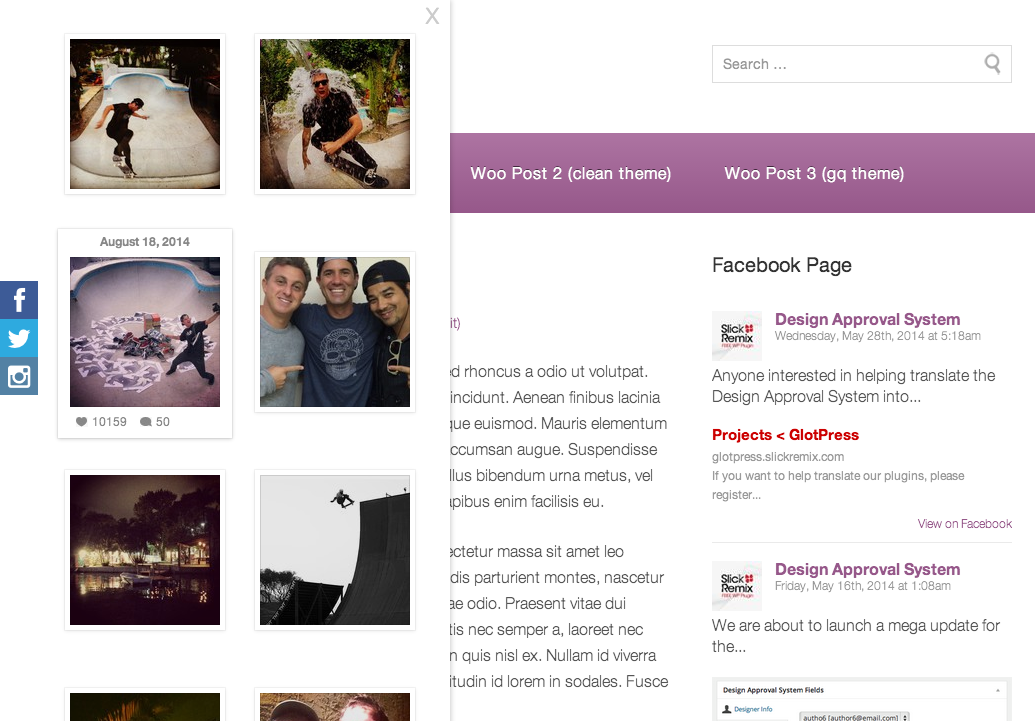 FTS Bar
We here at SlickRemix are excited to announce the launch of a new extension for Feed Them Social called Feed Them Social Bar (FTS Bar for short)! We wanted to offer our premium users a way to share their social feeds without taking up much real estate on their websites! This new extension is highly customizable and easy to use. We also spent many hours making sure it works great and looks awesome on mobile and tablets! You can choose to add Facebook , Twitter or Instagram to the left side of your website and when you click the icons a smooth fade effect happens to display the feed!
FTS Bar Demo (Link will open new tab)
Take a look at some screen shots of the options page:

We are requiring users to have the Feed Them Premium extension to use FTS Bar because it utilizes many of the great features of the Premium and Free versions. We have created a bundle of both the Premium version and FTS bar for the new users who have not yet purchased the Premium extension to make things a little easier on the pocket book! We will also be emailing out a coupon to all of the users who have already purchased the Feed Them Premium extension for a big discount to make sure we take care of our loyal SlickRemixers who have have already supported us by purchasing Feed Them Premium Extension!
The Documentation
A few weeks ago we released documentation for all our SlickRemix plugins which means Feed Them Social (Free version), Feed Them Premium and now FTS back are all included. This should help you get started and fully understand how to use these plugins to the fullest and hopefully answer any questions you may have. Here is a list of links of those documents: (They will open in new tab if you want to take a look now)
The Support
If you are having trouble getting setup or need some help we want to get you taken care of. Like any other plugin SlickRemix sells, if you have questions prior to purchase or when you purchase FTS Bar you are more then welcome to use our free support services. You can submit your questions or  if you need help just use our simple support forum. We take pride in making our customers/users happy by answering any questions and helping out as quickly as we possibly can.
[wow_button type="square" size="big" color="mainthemebgcolor" url="http://www.slickremix.com/downloads/fts-bundle/" text="Purchase the Feed Them Social Bundle" icon="shopping-cart" blank="false"]
OR
[wow_button type="square" size="big" color="mainthemebgcolor" url="http://www.slickremix.com/downloads/fts-bar/" text="Purchase the Feed Them Social Bar (FTS Bar)" icon="shopping-cart" blank="false"]