Making your first Topic and Response.
Here are some simple terms you should know when setting up Sidebar Support:
Topics – are what will be used to organize the Quick Responses and Quick Links. In simple, Topics are basically just "categories" and should describe what the Quick Responses or Quick Links are relative to.
Quick Responses – are pre-typed responses used respond to support forum users, clients for your business, customers of your store or comments on your blog. The goal here is to achieve fast support of any kind!
Quick Links – are links you want to navigate to quickly while doing support. This could be anything from documents to support forums.
For a visual reference, here is an example of how we are going to set up the Topics, Quick Responses and Quick Links:
SideBar Support (Topic)
– Quick Response #1
– Quick Response #2
– Quick Response #3
and/or
SideBar Support (Topic)
– Quick Link #1
– Quick Link #2
– Quick Link #3
Here is a screenshot of how this would be constructed on the front end. Here is a link to view the demo too. http://sidebar-support.com/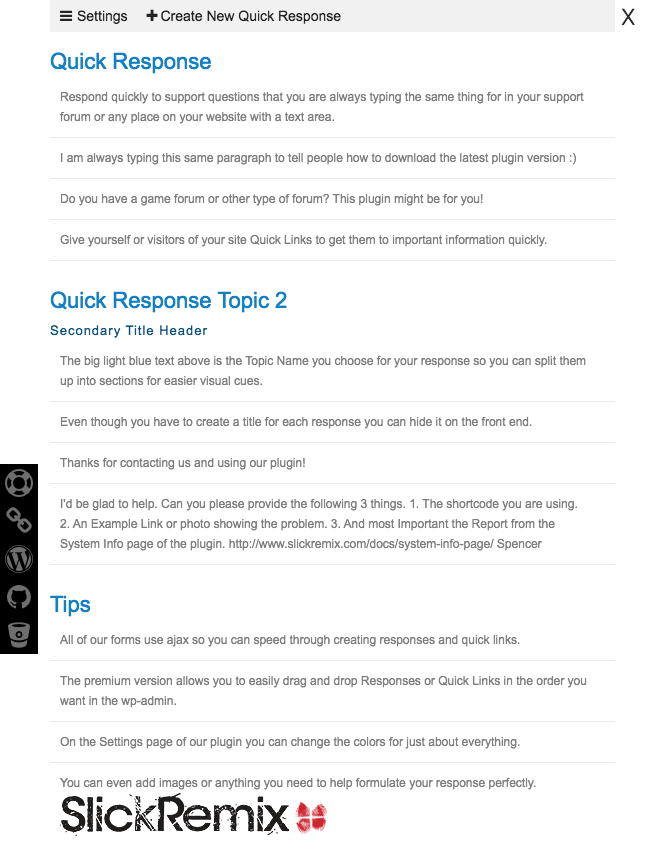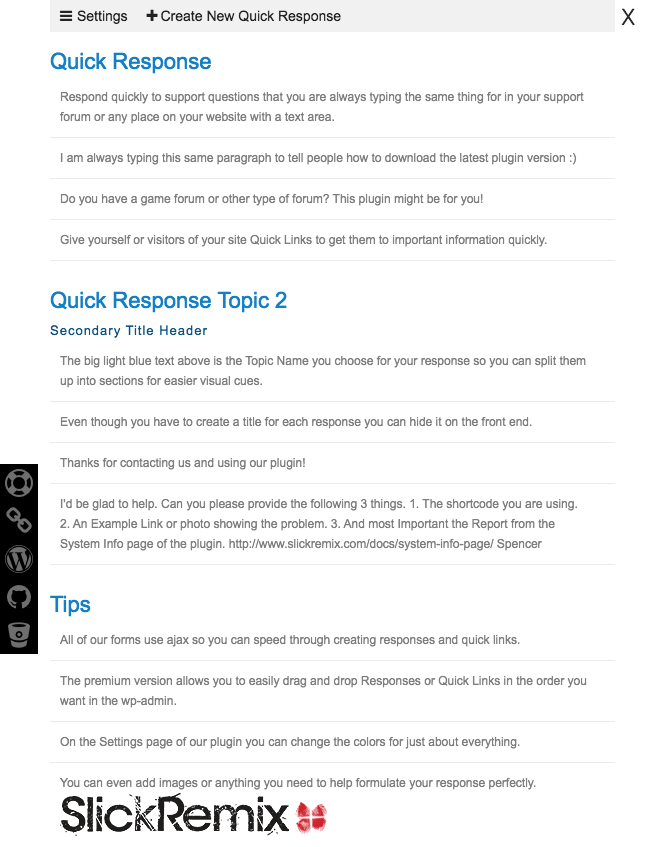 Now that you know what Topics, Quick Responses and Quick Links are lets set them up:
Log into your WordPress Dashboard.
Under the Sidebar Support Tab click "Sidebar Builder".
Now Click the button that says  "Create New Quick Response" or "Create New Click Link", if you are on the Quick Links Tab.
Add a New Topic for your Quick Response, then fill in the other options.
Click the "Submit Form" button and your new Quick Response should appear in the Quick Response list below the Setting options. That's it! Pretty easy right?! Now follow the same process to create your Quick Links from the second tab with the link icon on it.