Step 3: Make the Categories
Next we we are going to make the categories that will make up your Documentations Item's menu. You will be able to create menus up to 3 categories deep. Each Category may have Document posts attached to them. Here is an example of what we mean
Main Category Name [REQUIRED]
– Sub Category Name (Parent of Main Category) [OPTIONAL]
  — Sub Sub Category (Parent of Sub Category) [OPTIONAL]
Login to you WordPress Dashboard.
Click "Doc It" tab.
Click "The name you created in step 1". (under Doc It Tab)
Fill out the name input to create a Category Name.
Select a "Parent"  if it is a Sub Category or Sub Sub Category.
That's It!
Below is an example of how our Categories look for this exact Doc It Example.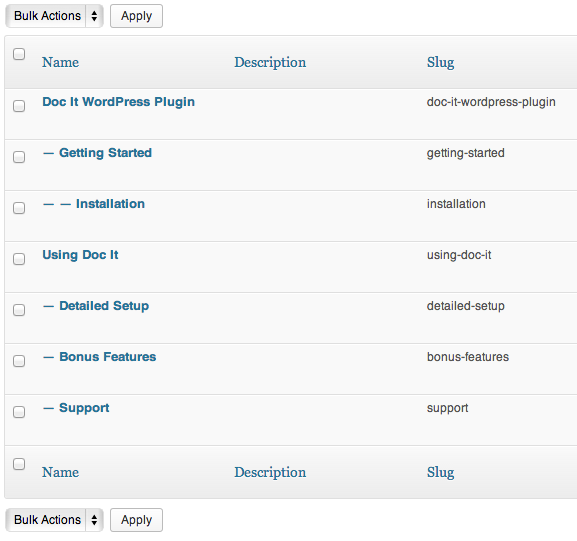 And after adding the Posts, which we will cover Step 4, the menu will look something like this.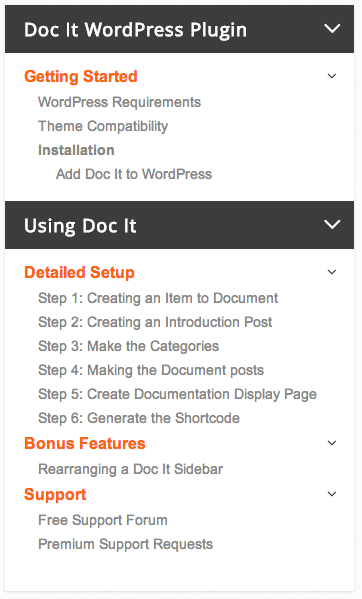 **NOTE** To learn how to reorder categories please see Rearranging a Doc It Sidebar